Overnight Code: The Life of Raye Montague, the Woman Who Revolutionized Naval Engineering (Hardcover)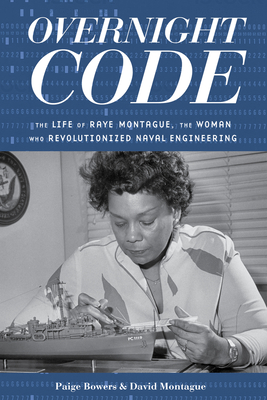 Description
---
"Overnight Code is a must-read for anyone seeking inspiration to overcome social barriers and to shatter glass ceilings." —Carolyn Porter, Marcel's Letters: A Font and the Search for One Man's Fate 

The inspiring story of a groundbreaking African American female engineer who created the first computer-designed ship for the US Navy 

Raye Montague was an ambitious little girl in segregated Little Rock. She grew to be a woman who spent a lifetime educating herself, both inside and outside of the classroom, so that she could become the person and professional she aspired to be.  

Where some saw roadblocks, Montague only saw hurdles that needed to be overcome. Her mindset helped her become the first person to draft a Naval ship design by computer, using a program she worked late nights to debug. She did this as a single mother during the height of the Cold War, all the while imbuing her son with the hard-won wisdom she had accumulated throughout the years.  

Equal parts coming-of-age tale, civil rights history, and reflection on the power of education, Overnight Code is a tale about persistence and perseverance when the odds against you seem insurmountable.  
About the Author
---
Paige Bowers is a news and features writer as well as the author of The General's Niece. She lives in Atlanta, Georgia. David R. Montague, the son of Raye Montague, is the director of online learning and faculty mentoring at the University of Arkansas at Little Rock, and is a tenured full professor of criminal justice.
Praise For…
---
"What an amazing story about an amazing woman! . . . Important and inspiring, Raye Montague's life demonstrates what a determined woman can accomplish even when the deck is doubly stacked against her." —Theresa Kaminski, historian and author of Dr. Mary Walker's Civil War 
"To be young, gifted, and Black! Raye Montauge's story is genuine, uplifting, and witty. Every page offers a life lesson about navigating diversity, commitment, and parenting. Raye Montague should be a name that is known throughout the nation." 
—Pearl K. Dowe, professor, Emory University 
"Overnight Code skillfully combines the personal, the political, and the scientific to tell the powerful and inspiring story of a woman who refused to be stopped by the dual challenges of racism and sexism in the largely male, largely White world of the early days of computer science."
 —Pamela D. Toler, author of 
Women Warriors  
"Overnight Code serves as a reminder that even in the toughest of environments, if you give someone a chance, they will excel beyond expectations. It is the lesson, the story, and the life of Raye Montague."
 —Artemesia Stanberry, coauthor of 
Stealth Reconstruction 
"Raye Montague was a trailblazing figure made of grit and grace. Overnight Code unveils the true story behind her twin battles against racism and sexism as she earned her place in history as a computer programming pioneer." —Carolyn Porter, Marcel's Letters 
"After reading, and reading again, the pages of her biography, one arrives at a conundrum of a crossroad: there was both no one like her and yet so many like her. She was original in triumph and spirit, but faced some of the same hurdles that thousands before and after her have encountered. How she handled them — the grace, the tenacity — was exemplary; Raye was a definitive inspiration for all."—Dustin Jayroe, 
AY Magazine
"The author does an admirable job of letting readers learn about a true American hero and offers an in-depth look at a remarkable man." —
Booked Solid with Virginia C